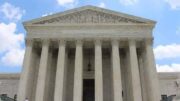 While many are down on the legal profession, Supreme Court Justice Alito has a more positive outlook (and this was before the election):
"U.S. Supreme Court Associate Justice Samuel Alito Jr. was asked during a visit last week to Buffalo whether pursuing a job in the legal field was still worth doing. Law students face a declining job market, changing industry landscape and a job that comes with increasing demands. Graduates struggle to find work nationally."
Read: Alito: Legal jobs, American dream still worth pursuing – Buffalo – Buffalo Business First
* Like this?
Click here
to get our weekly email featuring in-house news, jobs and announcements *